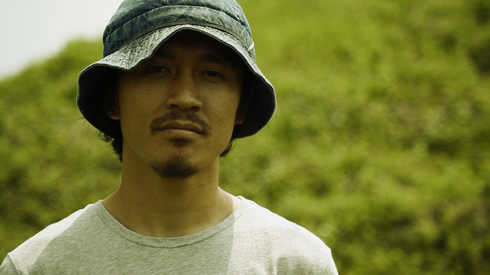 Yoshiro Mizokami / 溝上 吉郎
OKA SKATEBOARDS
In 1978, Yoshiro was born in Otsu city, Shiga prefecture. After graduating
from college in 2001, he aspired to be a furniture maker, joining
a manufacturing company in Kyoto. Established his own "Kijirushi"
furniture brand in 2005, producing order made natural wood furniture.
In 2011, after meeting kindred spirit James Gibson,
he cofounded "OKA SKATEBOARDS".
1978年、滋賀県大津市生まれ。2001年大学卒業の後、家具職人を志し、京都市内の家具製造会社
に就職。3年間の就労の後、会社閉鎖に伴い独立を決意。2005年家具メーカー「木印」を設立し、
天然木を使ったオリジナルの受注家具を製作している。
2011年、ジェームズ ギブソンと意気投合し、"OKA SKATEBOARDS"を共同で設立する。