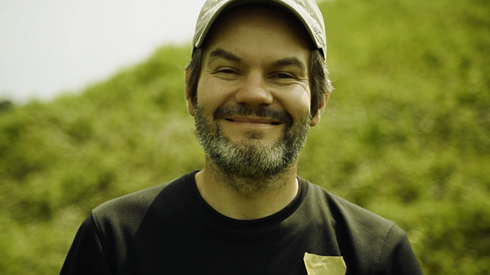 James Gibson / ジェームズ ギブソン
OKA SKATEBOARDS
James was born in England and is currently living in Otsu, Shiga prefecture.
In 2011 he established "OKA SKATEBOARDS" with Yoshiro Mizokami
making hand-crafted hardwood skateboards.
James is also an Associate Professor at "IAMAS" (Institute of Media Arts
and Sciences), where he teaches Design Thinking,
exploring ways to tackle social, environmental, & sustainable design issues.
He cofounded "collect.apply" in 2006, where in addition to working on
client projects, he explored is passion for self-publishing producing
several books discussing design, creative education, and social change.
Before moving to Japan in 2005 he worked as a Service Designer at
live|work, Human Interface & Research Designer at Sony Design Centre
Europe & Tokyo, and a Web Designer & cofounder of Lateral.
イギリス生まれ。滋賀県大津市在住。
"IAMAS"(情報科学芸術大学)にて准教授として、社会的、環境的、及び持続可能なエネルギー
問題に取り組む研究と、デザイン思考について教鞭をふるう。
2006年"コレクトアプライ"を設立すると、クライアントのプロジェクトに取り組むのに加え、
自費出版にて、デザイン、創造教育、社会の変化を議論するいくつかの書籍を生産する事にも、
情熱を注ぐ。2005年に日本に移るまで、彼は live|work にてサービスデザイナーとして働く。
また、ソニーデザインセンターヨーロッパ&東京において、ヒューマンインタフェース
研究デザイナーとして所属。そし て、Webデザイナー兼共同設営者としてLateralを経営。
2011年 溝上吉郎と"OKA SKATEBOARDS"を設立。